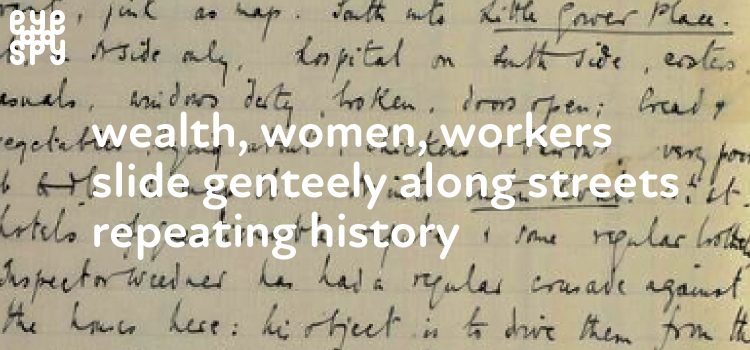 Come with me on my virtual wander as I walk down Gower Street where London's longest sets of Georgian terraces are delightful to the eye, so pleasing in their symmetry and architectural details. I find it hard to comprehend how John Ruskin could have called it 'the nec plus ultra of ugliness in British architecture'. It didn't deter the newly-wed Charles Darwin, who moved into 12 Upper Gower Street in 1839 with his wife; by then the terraces had become known as 'genteel residences'.
But within fifty-five years Gower Street was being described in an architectural magazine as 'one of the dullest, gloomiest thoroughfares in town… [with its] depressing vista of …blackened house-fronts…'.  Clearly genteel no longer. Lots of the spacious interiors had been turned into illegal boarding houses filled with starving families, workers in rags, barefoot children.
Which is why in 1898 two police constables, Robert Turner and RJ French, accompanied George Duckworth (with his trusty notebook in hand), principal research assistant of Charles Booth the social reformer. The three men roamed through Bloomsbury to compare the contemporary state of the area with the original 'Poverty Maps' drawn up almost a decade earlier. The police constables were there to protect George from attack as drunkenness, drugs and crime abounded in the dark and dismal streets.
In his notes, George gives details of the types of persons living on, in and around Gower Street and Bloomsbury. These people are colour-coded on the 'Poverty Map, from 'Lower class. Vicious, semi-criminal', through to 'Upper-middle and upper classes. Wealthy'.
George was meticulous in his observations: 'Little Gower Place: 2 st. [storeys] on n. side only, hospital on south side, costers, casuals, windows dirty, broken, doors open; bread & vegetables lying about, chickens & barrows, very poor…'
George also consulted PC Turner and PC French about residents' behaviour: 'The poorest spots in the walk are Little Gower Place… [PC] French… did not think education had lessened crime, though it had lessened the sort of crime. There is less roughness but more ingenuity.
There is more female than male drunkenness in the subdivision…
Not much outside crime among foreigners – "When they rob, they rob one another."'
I was with them as they visited hotels of 'questionable repute', 'regular brothels', pubs, taverns, liquor houses; saw the variety of ethnicities rubbing up against each other, the poor health of many who were only a street away from wealth and rich living and heard stories of transportation. I heard, meandering from Gower Place to the Kathleen Lonsdale Building (once Little Gower Place), the shouts of those tumbling from inns, the cries of starving families in doorways, the whistle of the policemen en route to break up a fist or knife fight, the many immigrant voices of people looking to escape conflict, and wondered which century I was in.
Irene Lofthouse
Photo: 'George H. Duckworth's Notebook: BOOTH/B/355, 1898 https://creativecommons.org/publicdomain/mark/1.0/