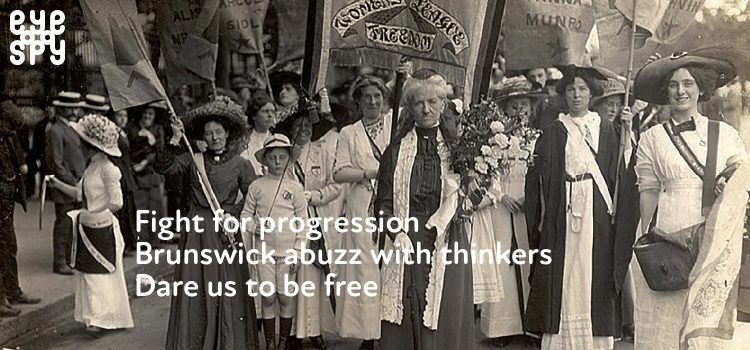 For those in sympathy with progressive thought.
Advocating non-violent protest.
A strictly vegetarian restaurant.
It's not a 21st century student hall, nor is it the latest hip London cafe; it's the ethos of the Minerva Club, established at 28 Brunswick Square with the purchase of property by Dr Elizabeth Knight in 1920.
The Minerva Club provided a home for the Women's Freedom League, a group that broke away from the Women's Social and Political Union (WSPU) in protest at its more militant tendencies.
These women preferred non-violent protest.
They chained themselves to the Ladies' Gallery at the Houses of Parliament.
They refused to pay taxes without representation in government.
And they gathered at the western corner of Brunswick Square to support and honour all those who had sympathy for the cause. It was the centre point for those most courageous and inspiring souls who were not ready to rest in the fight for equal rights.
The Club provided lodgings as a safe space for women only, but its cafe – strictly vegetarian –was open to all. Neighbour E.M. Forster was no stranger to its breakfast menu; Sophia Duleep Singh, a goddaughter of Queen Victoria, was a frequent visitor, too. It was used for meetings, as a hostel for activists, and for an annual birthday party in honour of Anglo-Irish activist and pacifist Charlotte Despard – "one of our most courageous and devoted social workers", said Sylvia Pankhurst, who was briefly imprisoned at Holloway alongside Despard in 1907. Despard would come from Ireland for these parties, which acted as fundraisers for her cause.
The Suffragette Fellowship, established by Edith How-Martyn in 1926 to "keep alive the suffragette spirit", created a formal archive and a Woman's Record Room at the Minerva Club. The Record Room committee included regarded names such as: Scottish feminist, suffragette and journalist Helen Archdale, who initiated a training farm for women agricultural workers in 1914; actress and suffragette Winifred Mayo; Theresa Garnett, a very active protestor who once assaulted Winston Churchill with a dogwhip; Lilian Dove-Wilcox, a member of Emmeline Pankhurst's personal bodyguard; and Minnie Baldock, who co-founded the first branch of the WSPU in London with Annie Kenney.
The building – described as "tatty" by one resident in the 1930s – didn't see its final days until 1962. After more than 40 years of pushing for justice, the Minerva Club was swallowed by the post-war development of Brunswick Square. The western corner of the square today holds the modernist Brunswick Centre, a mixed residential and retail complex. And what would the ghosts of these activist women make of that?
Lauren McMenemy
Photo: Women's Coronation Procession on 17 June 1911 – Charlotte Despard in front with Women's Freedom League banner behind