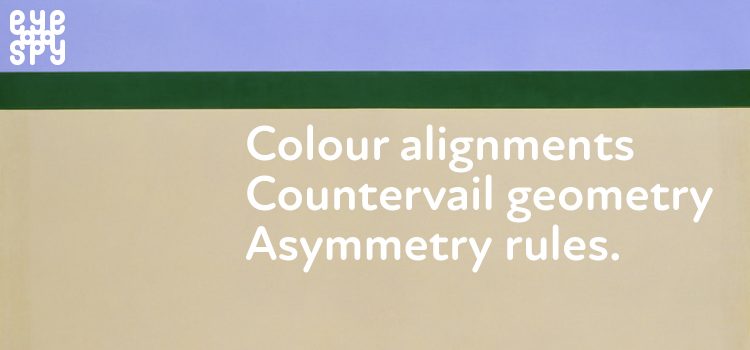 Imagine being a student at the Slade School of Fine Art in the late twentieth century. You would have been in good company with Antony Gormley, Rachel Whiteread, Mona Hatoum and Martin Creed. Your teachers could have included John Hoyland, Euan Uglow, Paula Rego and Craigie Aitchison. Founded in 1871 following a bequest from Felix Slade, the art school has always been highly regarded but its alumni and teaching staff from that later golden era read like a roll-call from an arts world who's who.
Two artists had teaching careers at the Slade which coalesced around those last three decades before the millennium: Malcolm Edward Hughes (1920 – 1997) and Jean Mary Spencer (1942 – 1998). Hughes taught there from 1970 until 1983, ran the graduate school from 1973 and was appointed emeritus reader in fine art in 1976. Spencer was a tutor from 1988 until 1998 and became reader in 1995. Hughes had been Spencer's teacher at Bath Academy and they enjoyed a long relationship, marrying in 1997. Hughes died of cancer later that year. Spencer died in 1998 also from cancer. Two lives measured in numbers.
I know their full names, what they did for a living, the years they were born and the years when they died. Their brief stories are inscribed on two memorial benches on Wimbledon Common where I walk most days. I wanted to find out more about them and my enquiries led to the Slade, the north wing of UCL's Bloomsbury campus on Gower Street.
Are there certainties in the pursuit of beauty, truths derived from rules and systems? Theirs is an austere formalism, perhaps at odds with the neoclassical ornament of the surrounding buildings. Hughes and Spencer were abstract artists, Russian Constructivism after the revolution their joint alma mater. Initiating the Systems Group, they were among a collective of experimental artists united in their enthusiasm for systems and abstraction. Achieving optical effects with colour, using sequence, rhythm and geometry expressed via a predetermined, mathematical system was their stated aim. Precision, clarity, economy of form and rational process characterise their work in monochrome and colour.
Spencer worked within numerical systems then moved to colour theory as the basis on which to construct her abstract paintings. She was an expert in chromatics, inspired by JMW Turner and Kazimir Malevich, wanting colours that would harmonise with one another with no single pigment dominating. Painting was a means of solving a question, an aesthetic equation, finding answers through pictorial resolution.
No longer modish, constructivist, geometric or systematic abstraction may yet be due a revival, if only because Hughes was a pioneer in computer art and contemporary artists lean towards the digital. At Slade, Hughes introduced fine art computing and experimented with computer graphics.
Residing in the rational, the works of both artists are sensual and emotional, tendencies that belie their meticulous making. Maybe the detachment of rules or systems lends itself to greater freedom and emotional engagement within the artist's self-imposed constraints. Ultimately, their lives amounted to more than numbers.
A memorial exhibition for Hughes and Spencer was held at the Tate in 1999.
Sue Evans
Image (detail): 1997, Jean Spencer (1942 – 1998), ©Tate