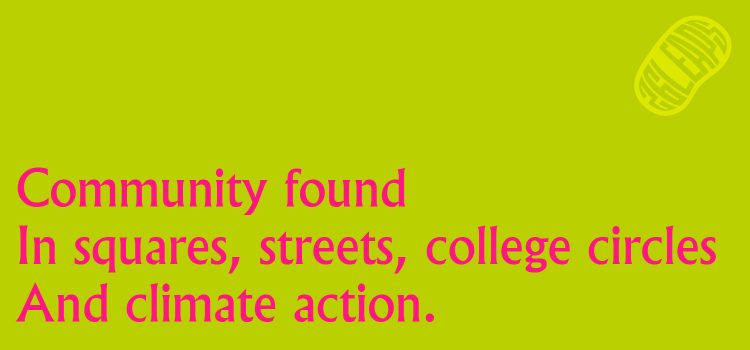 Ezri Carlebach
Aliza Ayaz
First leap
There's not a better word, says Aliza, for the move from Dubai to Bloomsbury, than leap. One of just twelve studying BSc Population Health at UCL, Aliza arrived in 2018 and fell in love with Bloomsbury and its people. So many backgrounds and home towns, careers and courses, views and varieties. Everyone has a story in Bloomsbury. If it takes a village to raise a child, then Bloomsbury – a global village sitting at the heart of a great city – raises thousands.
Second leap
Arriving at Euston, anticipation mingling in the air with something altogether fouler – I felt the pollution in my lungs – Aliza knew she must act. No sorry excuses; just direct, purposeful action. She founded the Climate Action Society, soon UCL's biggest student society. Setting bold targets, they are ready to work with global markets, academia, government, everyone, to harness inclusion, innovation and investment; and just as ready to rebel, rather than face extinction.
Third leap
Speaking freely, Aliza voices concern about student fees. Back home in Pakistan, I've met so many people who are so talented, intelligent and capable, and they deserve to be at UCL… yet it lies beyond reach, their potential wasted. So, abolish the fees! A leap too far? Only for the unimaginative. And Aliza's generation knows the future is to be found in the imagination.
Fourth leap
From Karachi's dusty streets of childhood memory to UCL, population health and climate action… and then? Loads and loads of things. And where? Bloomsbury, perhaps. Everyone has a story in Bloomsbury.