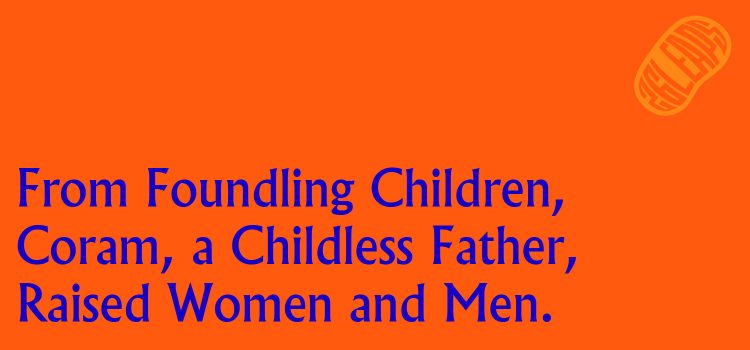 Faye Sharpe
Thomas Coram – Philanthropist and Campaigner for Children

Imagine – Walking from Home to Business.  Rotherhithe to London.  Every day.  Eight miles, there and back.
Imagine – Stepping over the Bodies of Dead and Dying Babies, stripped Naked to hasten Death.  By Exposure.
Imagine – Sunny days.  Rainy days.  Snowy days.  Every day.  So many Small Steps.
Imagine – Childless, Public-Spirited Thomas Coram, Shipbuilder, Entrepreneur, Philanthropist, taking those Steps.
Imagine – 1722 when Foundling equals Bastard.  Bastard equals Disgrace.  Disgrace justifies Infanticide.
Think – Royal Charter.  Granted by The Monarch.
Think – Who opens the doors to the Privy Council?  Traders.  Profiteers.  Who knows The King?  Their Lordships.  His Grace.
Endure – Seventeen Years of Opposition.  Not for Charity, the Purview of The Church and The Kingdom of God.
Take a Leap – of Understanding.  The Nature of Company Men is where the Cause and Solution lies; Never Reprimand the Cause, but give Value to the Result.
Take a Leap – of Perspective.  A legitimate Channel.  A Funnel of Society's Tokens of Benevolence; its Money.
Take a Leap – of Innovation.  A not-for-profit Company.  Legal and Self-Governing.
Take a Leap – of Connection.  What links Creativity, Philanthropy and Children's Welfare?
Take a Leap – of Faith.  In The Ladies who pull their Lordships' purse-strings.  Her, Disgraced.
Take a Leap – into an Age of Reason.  Arts.  Music.  Enterprise.  Hogarth.  Handel.  Coram.
Regard! – Charity made Fashionable.  All Profits to The Foundling Children.
Take a Leap – of Transformation.  From Bastard into Foundling; Disgrace into Grace.   And Shame into Pride.
The London Foundling Hospital.  Then: An Innovation.  Now: Proudly, Simply Coram.