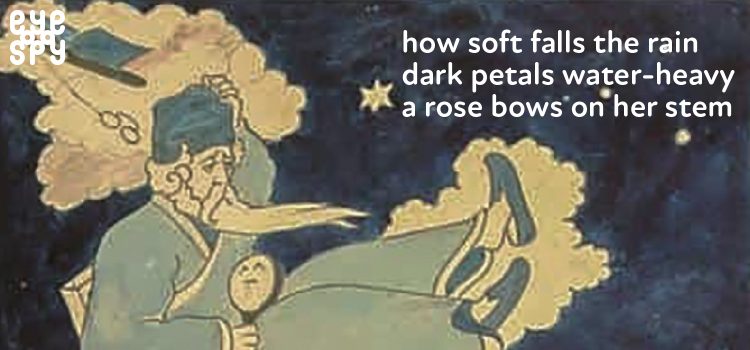 'The rose, who is alone, need not envy the numberless thorns.'
Tagore, Fireflies
Rabindranath Tagore's larger-than-life bronze bust looks over Gordon Square. The poet, novelist and playwright, also a pacifist and social reformer, visited London in the summer of 1912. A 'Tagore Evening' was staged in his honour with a play (the tale of a fugitive princess based on his Dalia) and music by the Sufi mystic Hazrat Inayat Khan and troupe.
At the time Virginia Woolf lived at 46, Gordon Square, now Birkbeck College. Although the Times of July 31st gave the evening a favourable review, I imagine Woolf turned the page swiftly. Daughter of an Indian-born mother, she scorned the Theosophical Society so popular with her fellow intellectuals. The Theosophists' esoteric philosophy combined elements of Hinduism, Buddhism and Kabbalah with spiritualism and the occult– Yeats, revered by Woolf, was one. His much-quoted The Second Coming written in war's aftermath came to him as 'dream-writing' and uses the occult symbolism of the gyre in an apocalyptic future vision.
Yeats met Tagore in that summer of 1912 and was struck with his poetry, comparing it to fellow mystic William Blake. He wrote an effusive introduction to Tagore's Nobel prize-winning collection, Gitanjali.
The traveller in the red-brown clothes that he wears that dust may not show upon him, the girl searching in her bed for the petals fallen from the wreath of her royal lover[…] (all) are images of the heart turning to God.
Mysticism has long been associated with Eastern religions but is also part of Christianity and Judaism; a common theme is union of the self with the divine. As an Indian with a long white beard, to Western admirers such as Yeats, Tagore symbolised the mystic religiosity of the East. In fact, his large, intellectual family was similar to Woolf's: several siblings were writers and artists and the family magazine was edited by his sister, also a novelist.
Across Gordon Square from Tagore is the bust of WWII heroine, Noor Inayat Khan, her head gently bowed and expression thoughtful. Daughter of Hazrat Inayat Khan, the same Sufi mystic who sang for Tagore in 1912, her family descended from Tipu Sultan of Mysore, making her Indian royalty. Sufism is the mystical strain of Islam, famous for poets including Rumi, Hafez and Khusrao. Noor loved music, playing the stringed veena, and with her siblings and mother helped Hazrat Inayat Khan spread a universal Sufism he described as 'a religion of love, harmony and beauty.'
Despite her pacifist beliefs, Noor fled France before the Occupation to join the war effort in England. She was bilingual, having lived at Gordon Square as a child, and the Special Operations Executive soon recruited her to go undercover as a radio operator in occupied France. The fugitive princess was captured in Paris by the Nazis, tortured and executed in Dachau at the age of only 30.
Gita Ralleigh
Image (c) Gagendranath Victoria Memorial Museum in Calcutta