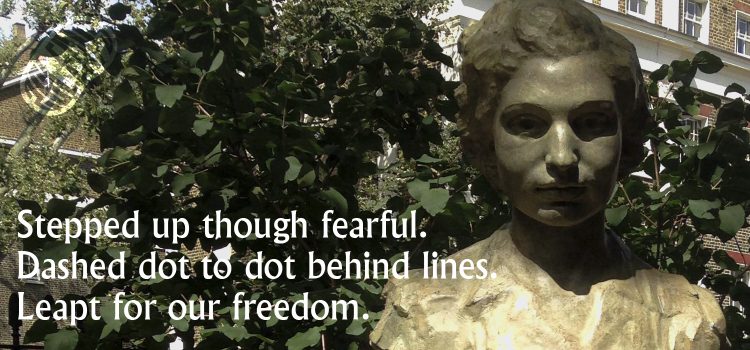 John Simmons
Noor Inayat Khan, 1914-1944
A Dark Angels sonnet
1. Now she gazes unflinchingly, Croix de Guerre, across Gordon Square in the statuesque company of Tagore, Indian philosopher, Nobel laureate.
2. Unlikely beginnings in Moscow, daughter of an Indian Muslim father, a musician Sufi, a noble family. Her mother an American mystery. The family settled in Bloomsbury just as the first world war unsettled everything.
3. Her father was an Honorary Saint. He died.
4. Shy, dreamy, Noor studied music in Paris. She plucked notes from harp and piano, then stories for children.
5. When the next war came, Noor's family fled France, back to England.
6. Her father shaped her thinking still. A pacifist.
7. But the Nazis changed even that. She needed to do something, to fight for liberty. To make a bridge between English and Indians.
8. She joined the WAAF, trained wireless operator, tapping the codes.
9. "Not overburdened with brains." Her instructor's patronising verdict. Overruled by "Nonsense".
10. So gentle, her bosses could not fathom her but still they sent her, a secret agent, dropped behind enemy lines.
11. "Scared of weapons. Unsuitable for jumping." But fast on the keyboards, a natural signaller. The riskiest role, the channel for information, the heart of resistance.
12. Back and forth, England and France, bewildering movements. 'Madeleine' became the hub, too important to escape betrayal.
13. So she was betrayed. Captured. Interrogated. Tortured. Escaped. Recaptured. She herself betrayed no one.
14. The Nazis sent her to Dachau. The concentration camp could not break her, only the executioners' bullets tore her apart. Not before she breathed her last word: "Liberté."