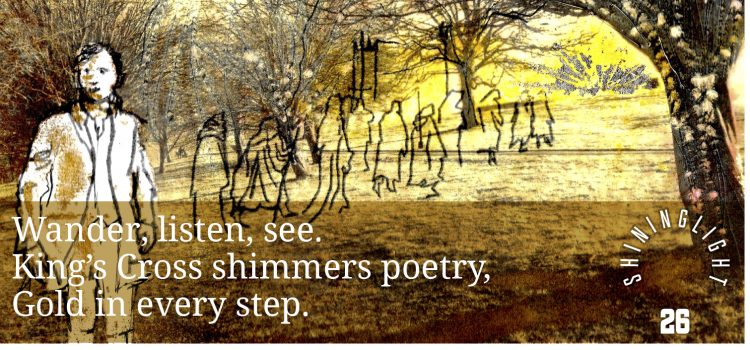 I give you the end of a golden string;
Only wind it into a ball,
It will lead you in at Heaven's gate,
Built in Jerusalem's wall.
William Blake


Unravelling across the forgotten hilltops and valleys of King's Cross, encircling its sacred sites, a golden string of lights, magical worlds in each, a gilded pathway showing in glimpses, the ephemeral, eternal, elliptical. Above, in burnished swirls and arcs, Blake and Chatterton drop words like explosions, starry cascades at their heels, golden pillars in their sights.
Looping around ancient Battle Bridge, the lost Fleet's Broad Ford, where spray-painted triads on blackened bricks whisper hope into the future. Sparkling through the healing waters of once-upon-a-time wells, as hooves clatter on granary cobbles, clouds of Lincolnshire flour wheezing from sacks carted to long-gone bakeries. 
Soaring above Granary Square where ribbons of poetry sing out, beneath lime blossom, across a piazza of glittering fountains, a wished-for dedication to art and thought, to pleasure and leisure. The disused goods yard, a home for knowledge, reclaiming holy ground, the dawn of a new age?
Winding brilliance through a twining archway of golden leaves to St Pancras Old Church, where Rimbaud's words, his own transcendent Illuminations scratched out a few streets north, Verlaine at his side, glimmer in iridescent clouds. Twinkling through the branches of its famous churchyard ash, embracing Wollstonecraft, a young Hardy tangled there, roots reaching round embedded tombs, embellished with emerald moss, emanating in rays, like half buried coins, misplaced souls a small price for the railway.
Illuminating the unremembered gate to the buried country path, to the medieval parish of the child saint, to Somers Town, among brickworks and market gardens. Radiating narrow alleys alive with French voices, artisan émigrés, revolution refugees. To The Brill and the clamour of a thousand costers, Walnuts! Apples! Herring!, the close of Sunday bells, all swept away, the shimmer of Shelleys, dereliction to come. 
Threading its glow up the damp stairs of a Georgian squat to a desperate rooftop, the young poet and visionary-to-be sits under a heavily inked sky, constellations mapping mysterious courses, verses lighting up the night. The teenage Rimbaud appears from a century before (exactly). Descend to hellish King's Cross, he invites, "the earthly paradise, the site of our hope." Scattering gems from his pockets, he now dreams of another world, of a universal consciousness, with Yeats, together across time, a moment of clarity with destinies, redemption entwined.
To wander with Aidan Andrew Dun is to uncover the gold beneath the pavements, behind the London skies, to find the mystical lie of a city many times overlaid, the city above the city, thinly veiled, a palimpsest of ideas and beliefs, of secret histories and silent energies that resonate over time and distance. It is to drift with purpose and to unlock the mysteries of King's Cross, to see it shining and new, a zone for imagination and freedom, for barefoot dancehalls and meditation domes, his Vale Royal, a space for the quiet mind, for oneness and transformation, a vision realised. It is to take the golden string.
Jayne Workman
Find out more about Aidan Andrew Dun's guided walk William Blake's Vision for a New Jerusalem in King's Cross
> Back to 26 Shining Light main page
Image credit: The spiritual sun: William Blake on Primrose Hill. From 'William Blake's Mystic Map of London.' Artwork by Louisa Albani