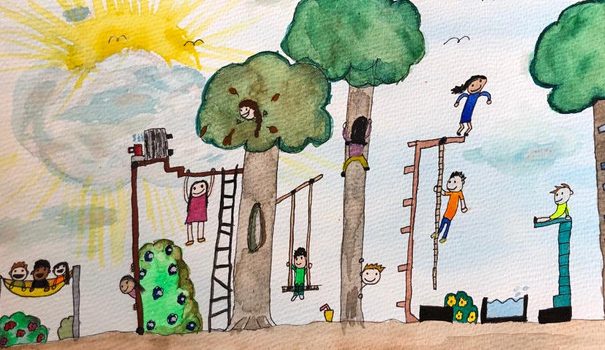 The winner of this year's children's art competition is Lewis, aged 10 from Gospel Oak Primary School, Camden. Lewis will receive £75 of vouchers from Cass Art and an art scholarship place at the Sir Hubert von Herkomer Art Foundation.
Lewis also wrote a poem to the Earth to accompany his entry;
I have now realised:
I can't be happy if you are not.
I can't be healthy if you are ill.
I can't destry you without getting destroyed.
Because I'm a part of you.
I live because you give me air, water and food.
Without loving you and all the creatures,
I can not be loved back.
I will work extremely hard to give you life back.
I will inspire others to do the same.
And we can be whole again like you planned in the beginning.
Entries were invited to the competition to create an artwork that represented entrants vision for the world 100 years from now. Four runner's up were also selected –
Jared, aged 12
Sienna, aged 11
Oscar, aged 8
Aishwarya, aged 6
The winning and runner's up art works will be displayed throughout the festival in an outdoor exhibition on the Lansdowne Terrace Railings at Coram's Fields.
The competition was organised in association with the Sir Hubert von Herkomer Art Foundation.
Winner of 2020 Children's Art Competition Announced