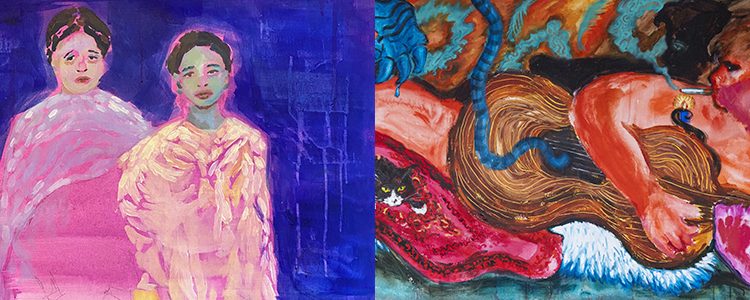 We are pleased to announce that Slade School of Art students, Azeri Aghayeva Bagheri and Noorain Inam have won the 2021 Bloomsbury Festival Art Competition.
The judging panel, hosted by Bloomsbury Festival's patron, Her Grace the Duchess of Bedford, included representatives from Slade School of Art, Bloomsbury Festival, The Bedford Estates and Camden Council. In an unusual step, the panel decided to jointly award first prize to Azeri and Noorain. They have now been commissioned to create an exhibition of new and existing works to be displayed during the festival from 15-24 October, responding to the 2021 Festival theme, Shining Light.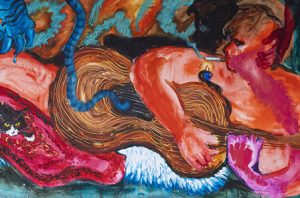 Azeri is a final year BFA Fine Art student at the Slade, UCL. Her practice is fascinated by the objects which play a role within our lives as silent witnesses, absorbing life into their inanimate selves. She creates an arena in her paintings in which this monotonous relationship between people and objects are inverted momentarily, inhabiting an awkward space between the unbelievable surreal and the believable mundane. Shadows have eyes, limbs become ornaments, the carpet has fallen in love with the other, the moon melancholically overlooks a vacant cityscape. Normality and the laws of perspective are reinvented using a camera lens in which she captures her subjects first and then fictionalizes them in a painting.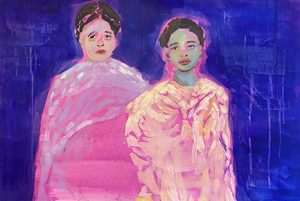 Noorain completed her first degree at the Indus Valley School of Art and Architecture in Karachi, Pakistan where she pursued her interests in traditional Indo-Persian miniature painting and in complex compositions. She is now pursuing a Masters in Fine Art at Slade, UCL. This has allowed her – for the first time – to go for night walks by herself. Moments of solitude and observation led Noorain to a shift within her recent body of work towards simpler relationships that focus on the relationship between two people in a moment of stillness. She is inspired by the moonlit sky and nocturnal urban landscape which she aims to mirror in the luminosity of the figures.
Full details of Azeri and Noorain's exhibition will be available when the full Festival programme is announced.
Winners of 2021 Fine Art Competition Announced