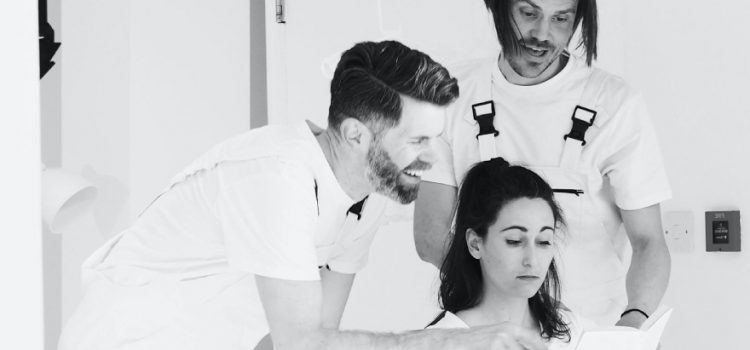 We spoke to members of Krēan(t)s ahead of their physical theatre performance during the 2021 Festival, The Cinnamon Shop, to find out a little more about them and their performance.
Can you tell us a bit about Krēan(t)s?
We are a group of artists whose collaboration began whilst on the Theatre Lab MA at the Royal Academy of Dramatic Art (RADA).  Our creative practice as an ensemble is rooted in exploring psycho-physical response to the narratives we choose to explore. Based in the UK, the company is made up of Jack Parris, Lane Paul Stewart, and Kristin Winters, all hailing from different parts of the country with varying artistic practices, but all sharing a passion for making accessible physical theatre.
How did you become involved in Bloomsbury Festival?
We were lucky enough to be a part of Bloomsbury Festival last year, presenting work we had created whilst at RADA, and so as an emerging company, it seemed like a natural space to bring this work in development. We feel very privileged to continue this relationship in the 2021 festival.
Can you tell us what prompted the idea for 'The Cinnamon Shop' and how the show has been developed?
The first iteration of The Cinnamon Shop was a site-specific commission by The Coronet Theatre as part of their Outside In Festival in May 2021. It was presented in an empty retail unit on Portobello Road, and provided artists and the community the opportunity to engage in live performance safely for the first time in over a year whilst restrictions on theatres and audience numbers were still in place. 
We began taking Bruno Schulz's short stories as a point of inspiration, as we were drawn to the vivid imagery, language, and characters. The stories provided the stimulus for physical exploration that shines a light on the collection of memories, how these memories are examined and re-experienced by an individual, and how the quality and vibrance of them is subject to degeneration and distortion over time. Drawing reference from neurological conditions, where the recall experience and retention of memories is often challenged and at times destroyed. The piece explores our relationship to the memories that define us using a combination of physical performance, music, and text to inform our creative vocabulary.
Tell us what audiences can expect?
Our audiences can expect a playful and emotive physical theatre performance as the company explores a life broken into pieces. The Cinnamon Shop invites audience members to reflect on their own memories of family and the untold stories that lie hidden under the years as memory fades. 
What other events during the 2021 Festival are you looking forward to seeing?
We are looking forward to supporting the productions of this year's RADA MA Theatre Lab cohort as they experiment with and present new work. It will be especially exciting this year to see how Bloomsbury's artistic community comes together to celebrate live performance again. Shows and works we are each excited to see: 
Jack – The Micrarium at the Grant Museum of Zoology.
Kristin – Flow Unlocked
Lane – True Colours: A Queer Cabaret
Book tickets for The Cinnamon Shop here.  Tickets are available to watch live or online.
A Q&A with Krēan(t)s ahead of their production, The Cinnamon Shop