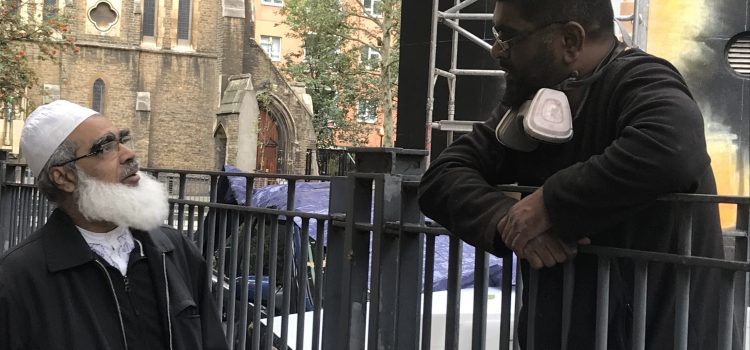 Bloomsbury Festival, in partnership with Mohammed Ali – Soul City Arts, are seeking elder members of the Bangladeshi community to be part of the Bangladeshi Tales from Kings Cross project. We aim to capture, cinematically, the life and journeys of those who chose Kings Cross as home.  As part of the 50th anniversary of the nation of Bangladesh a spotlight is shone on a generation that left behind their motherland,  celebrating unheard perspectives of the joys and the hardships of making a new home in a foreign land.
With these interviews Mohammed Ali and his Soul City Arts team will create a compelling short film for projection, along with a selection of photographic portraits, to share the perspectives of the everyday Londoners, who we may brush shoulders against, yet never hear stories from.
The film will be projection mapped onto the front of Holy Cross Church in Cromer Street at dusk during the Festival launch event, Lights, Banners, Tigers and also at Bangladesh 50 at The British Library, which will be attended by the Bangladesh High Commissioner.
Participants would need to be available for filming on any of the days of 18, 19 and 20 September. For more details and timings please contact Rajpal Pardesi – Executive Director – Soul City Arts
This project is funded by the National Lottery Heritage Fund with support from Camden Council and King's Cross Brunswick Neighbourhood Association.


Call-out for participants for Bangladeshi Tales from Kings Cross project