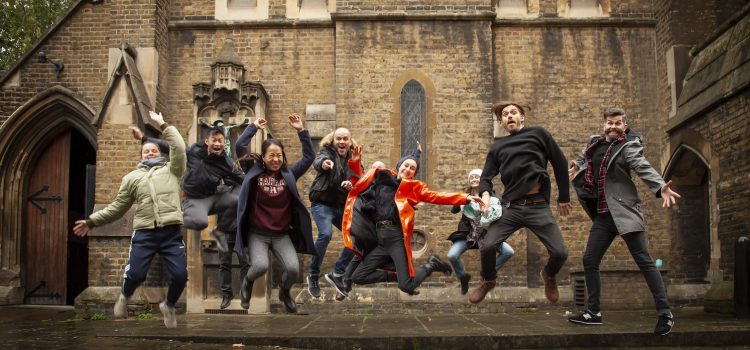 We're delighted to announce Bloomsbury Festival Encore! A second chance to experience some of the digital highlights from last year's festival, our Encore programme will run for three weeks from 25 January, featuring limited reruns of Bloomsbury Festival 2020 performances, exhibitions and events. Each week will be curated to reflect an aspect of the 2020 Festival theme of Vision and will be available to watch at your convenience.
We'll also be sharing snapshots of various aspects of the 2020 Festival on our social media channels, during Bloomsbury Festival Encore. Plus a selection from New Wave, our programme of music, drama and art from some of the country's leading talents emerging from Bloomsbury will also be available throughout Encore.
Every Monday during Encore we'll send a listing of what's available that week to our mailing list and share the schedule on our social media channels and website.
Highlights each week will include:
Week One – 25th-31st Jan
Seeing Differently
Another chance to see The New Mirror, storyteller Laura Sampson and musician Sam Enthoven's retelling of Hans Christian Andersen's Fairy Tale, The Snow Queen, the digital adaptation of Jeremy Goldstein's Truth to Power Cafe, filmed at Conway Hall and shortlisted for a London Offie Award in the Innovation category plus a dynamic mix of music from Europe, South America and India in NW Live Arts Music & Renewal. Find out about a collaborative research development process involving stroke survivors, artist and scientist in Ensnared – The Inescapable Reality of Fatigue. Take an audio walk to discover Haunted Bloomsbury and find out what untold Bloomsbury stories the 26 writers' group in Eye:Spy.
Week Two – 1st-7th Feb
Sight and Other Senses
We're excited to share once again the concert The Colours of Music with pianist Anna Szalucka and cellist Margarita Balanas, which connects captivating classical music with live painting, Helen Anahita Wilson's audio-visual performance of her latest project for vocals and electronics, Sounding the Cosmogram plus fascinating podcasts from the Insights team at Moorfields, visual illusions from Prof Andrew Stockman and more…


Week Three – 8th-14th Feb
Being Seen

The final week wraps up Bloomsbury Festival Encore with a chance to listen to a captivating, illustrated talk exploring London's beautiful and curious street signs and immerse yourself in two glorious concerts, one of choral music performed at Holy Cross Church and the other a concert from Goodenough College featuring a contemporary romantic music programme with dance, videography and photography.
Whether you want to catch up on what you missed, or watch an event again, we're providing an early year fix of Bloomsbury Festival to kick off 2021. We hope it brings some cheer to the start of this year.
Image (c) Stuart Keegan/Bloomsbury Festival 2020: RADA students at Holy Cross Church, Cromer St for their choir recording for YARA + DAVINA's Opinion Pole installation.
Announcing Bloomsbury Festival Encore