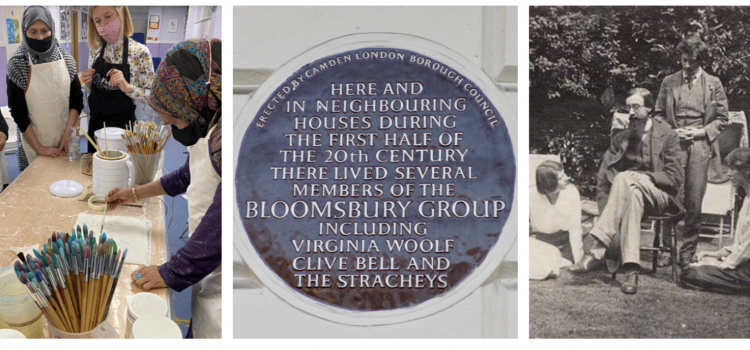 The Bloomsbury Festival has been awarded a £69,500 grant from The National Lottery Heritage Fund for a ground-breaking new year-long project called The New Bloomsbury Set.
The New Bloomsbury Set, made possible with money raised by National Lottery players, aims to redefine the cultural, literary, architectural and heritage landscape of Bloomsbury through the lens of the area's 21st Century global majority and other residents, inspiring young people and the wider community to reclaim the area for today's inhabitants. 
The project, working in partnership with UCL, Runnymede Trust, Camden Tour Guides and others, will feature paid trainee placements for young people and craft training skills for all ages. Their work will culminate in an exciting programme of events, digital activities, craft exhibitions and walking tours in partnership with major museums, galleries, performance venues and blue plaque sites showcased over ten days at the Bloomsbury Festival in October 2023. 
Around the world, Bloomsbury is famous as the London home of literary giants – renowned writers, artists and philosophers of the Bloomsbury Set (or Group) of the early 20th century such as writer Virginia Woolf, artist Vanessa Bell, art critic Clive Bell, and novelist EM Forster – whose blue plaques adorn the streets today. 
The New Bloomsbury Set will explore contemporary Bloomsbury beyond the Georgian Squares, literary names and affluent lifestyles. Local communities will be invited to present their own global culture, literature and heritage in the context of the original Bloomsbury Set of the pre-WWI era through the history of migration, empire and culture, while collaborations with local partners will celebrate and explore the physical environment, looking at how plans to improve the area will preserve Bloomsbury for the future. 
 (Wan Yi) Sandra Lam, Project Manager & Curator, The New Bloomsbury Set, said: "As a curator and cultural producer of Hong Kong heritage, I arrived in the UK just a few years ago, and I am delighted to be able to work with the community to explore the heritage, literature and arts of the area and offer new creative opportunities for reflecting global cultures of people locally in the historic and beautiful surroundings of Bloomsbury."
The Bloomsbury Conservation Area was designated in 1968, just a year after conservation areas were created with the Civic Amenities Act 1967. LB Camden adopted the Bloomsbury Conservation Area into its planning in 2011. 
The New Bloomsbury Set will be delivered in partnership by The Bloomsbury Festival and key local partners University College London, Central District Alliance BID, Camden Archives, Camden Tour Guides Association, Runnymede Trust, Holborn Community Association, Kings Cross Brunswick Association and Kinetika between October 2022 – October 2023. 
Download the full press release here.
National Lottery Heritage Fund grant to support 'The New Bloomsbury Set'