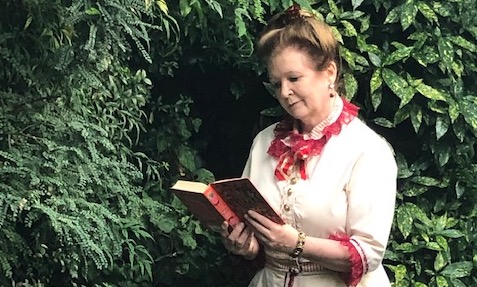 Fanny and Me at Bloomsbury
Child me: dress-refuser and climber-upper of trees. Eyeing a book cover being flapped in front of my nose by my earnest mother. On it is a girl in a pinafore, flaxen hair flowing, kneeling in a floral arbour.
"I'm not reading that. Not reading 'bout a garden."
"It's actually about a little girl called Mary."
"Don't care what she's called. I'm off climbing."
Child-me: sitter-downer during the National Anthem and proud of it.
"I'm not watching this. 's boring."
"You'll like it. It's about a little princess."
"Don't know any princesses."
Child-me: hair as black as the buckthorn berry, dressed in claret and blue (up the Villa- always).
"What's this? Little Lord Yawn?"
"Fauntleroy. He's famous."
"Well, he doesn't go to my school."
Child-me had covertly enjoyed the novels by Frances Hodgson Burnett (FHB) but I had been surprised to discover a play about her as part of the 2020 Bloomsbury Festival. I re-read The Secret Garden, remembering that when we enter a text created in a 1911 world, we encounter language and thoughts we no longer find palatable. As L.P. Hartley (The Go Between) said, "The past is a foreign country; they do things differently there." Casual racism, anti- Islamic sentiment, misogyny and ableism, rife in 1911, at times cankered the novel, The Secret Garden, like wolfsblane, outwardly harmless but highly poisonous. Should I stop reading? I decided that once recognised, weeds can be uprooted. This is easier to do on screen or stage, with diverse casting and script re-writes. I was keen to learn how Helix Productions would portray this less attractive side of Edwardian literature.
The answer was that they didn't. And I suppose that made sense. How can a character, narrating her life in first person, reflect on her colonial, sexist and ableist setting? Possibly, a reference in the preamble to some of the worrisome words and beliefs, where their full context and history could be fully drawn out, may have been helpful.
Helix Productions, two talented and hard working women, foregrounded instead the work ethic of FHB. Overburdened and frustrated, she calls herself, "a pen driving machine," and rips pages from her notebook. A woman of limited education, she often wrote to make money for her family. Such determination drew my admiration. This was juxtaposed with the sentimental dreamer. The upper strings of the Celtic harp produced a sweet, tinkling melody as FHB, wearing ivory and scarlet, falling in flounces and ribbons, pirouetted impishly. Having grown up in a Scottish household where it was normal to search for pixie rings on corporation scrubland, FHB's need to find refuge from harsh materialism in elfin bowers seemed understandable, especially considering that the Cottingham Fairy hoax, beguiling logical Arthur Conan Doyle, happened in 1917. This aspect of the production was enhanced by a real garden, glimpsed through wide window panes, providing a quicksilver back drop- at times the wind whipped the sable and blonde potted ferns and at others a mature sun highlighted russet leaves in the tall trees of Bloomsbury.
Child-me had particularly liked The Secret Garden. Centring around an unattractive girl who'd never fitted in, I was smitten from the start. Of Mary Lennox, the unloved protagonist, it was said, "She had begun to wonder why she had never seemed to belong to anyone." Such self- doubt resonated with me, as I'm sure it does for many children.
Liminality was portrayed by Helix Productions as a defining characteristic of Hodgson Burnett. Reading from one of her works, FHB says, "She's inside the edge and I'm outside." She is both the Manchester girl, who has known, "awful starving days," and the wealthy, successful, American writer. FHB has to play, "a bluff to convince the world." The use of contrast is tragic when she follows up an idyllic description of what a happy marriage should be, with the rough reality of how depressing, demeaning and cruel, her own two husbands were.
Adult-me found The Secret Garden pacy and at times, humorous; Ben Weatherstaff, the taciturn gardener, says of church, "Th' sermon was good enow—but I'm bound to get out afore th' collection." I also enjoyed the gothic references to Jane Eyre and Wuthering Heights : Dickon is a sanitised Heathcliff, whilst eerie crying is heard whenever the wind is "wutherin'." The beauty of Yorkshire dialect and the moor in Spring, throb and trill throughout. And, though deferential, it is the working class Sowerby family who ultimately sort everyone out. Allusions to softly falling smut from the Manchester factories contained within the play showed that FHB never forgot she was a Manchester lass and never disowned her early experience of industrial deprivation.
Anticipating the performance, I realised I'd never really thought about Frances Hodgson Burnett herself, beyond having a notion that she may have worn her corsets too tight, inducing the vapours. Now I've seen In The Secret Garden Of Frances Hodgson-Burnett, I realise how limiting this view of Victorian/Edwardian women is. Bequeathed to me by the mainly male teachers in my Girls' Grammar School, who had it from their mainly male teachers, it blighted my perception of women in history. None of us questioned it. Which is why such productions are so important.
A key image in the novel is that of Mary Lennox binding back the briars, unshrouding the grey shades of winter; digging, raking and planting; inhaling the scent of loam; nurturing the garden; making it "wick." That is what the performance itself has done with Hodgson Burnett. In their online Festival interview, Helix Productions, a.k.a. Helen Tierney and Alexis Leighton, explained that part of their purpose was, "to highlight the stories of older women and their notable achievements as we feel that often society has not recognised those fully."
Voicing the unvoiced permeated the Bloomsbury Festival as a whole and performances such as this one by Helix Productions, were accessible, affordable, entertaining and enlightening.
Vanwy MacDonald Arif
> Return to 26 Writers in Residence homepage
DAY 10: Vanwy MacDonald Arif – Sunday 25 October 2020