'A fine spring day. I walked along Oxford St. The buses are strung on a chain. People fight & struggle. Knocking each other off the pavement. Old bareheaded men; a motor car accident, &c. To walk alone in London is the greatest rest.'
 — Virginia Woolf, Street Haunting (1930)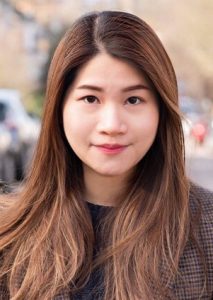 Walking in Bloomsbury has become my daily routine since I joined the Bloomsbury Festival in autumn 2022. Bloomsbury is extraordinarily beautiful to me in spring, when cherry blossoms start to bloom alongside Marchmont Street, and the breeze gently cuts through the trees in Brunswick Square Gardens, whispering on the leaves. 
I enjoy sitting outside of the cafés at Store Street and talking with our partners about the New Bloomsbury Set project, when the sun shines through the clouds, glistening on the windows of the Georgian houses around Bedford Square. 
The New Bloomsbury Set project was launched at last year's festival. The project is supported by the National Lottery Heritage Fund to review and reshape the cultural, literary, architectural and heritage landscape of Bloomsbury through the viewpoint of participants of the 21st century Global Majority residents of Bloomsbury and the wider community, and reclaim the identity of the area for Bloomsbury's current residents.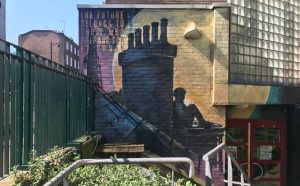 Since the beginning of the project, twelve months have passed, but to me it's as fresh in my mind as if it took place yesterday. In February 2023, we recruited 10 young trainees ages 18 to 25 connected to the local area and from diverse backgrounds. We have run a training scheme with 100 paid hours for each trainee over 6 months – including skills training in curating exhibitions with Emily Momoh, exploring archives at British Library and Conway Hall, producing digital and radio podcasts with Bloomsbury Radio, community engagement on our silks project with Kinetika at Holborn Library and an introduction to printmaking and bookbinding with the art department at City Lit. 
We went on a Bloomsbury Music Trail featuring emerging artists including Hong Kong flautist Karen Wong, Caribbean singer-songwriter Nina Hudson, and Turkish art duo Mario and Rama. We walked along the streets and squares with Camden Tour Guides Association and discovered Bangladeshi street artist Mohammed Ali's mural about young people on Argyle Street. We interviewed Rosie Peppin Vaughan and Fiona Khalastchy, local history researchers, in our oral history training with John Offord who works at BBC. We discussed global literature in our Writers of Colour Book Club. We created beautiful silk banners with local community groups of English, Bangladeshi, Chinese and Somali heritage from Holborn Community Association and King's Cross Brunswick Neighbourhood Association. We talked about football, cycling and silk painting with local youth groups and childrens. We shared stories of growing up, studying or working in Bloomsbury.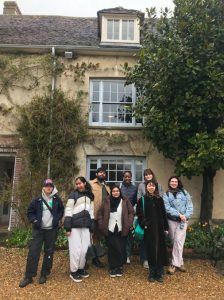 A highlight for all the trainees and our team on the project was a visit to Charleston House – the country house of the original Bloomsbury Group. One of our proudest achievements is the creation of a newspaper – written by our young trainees with contemporary news and opinion and inspired by Virginia Woolf and Vanessa Bell's handwritten news-sheets of a hundred years ago – were distributed around Bloomsbury. The newspaper also features one of our other major strands of the project – our Writers of Colour Book Club – with book reviews written by our trainees.
All these constitute the contemporary culture of Bloomsbury. Through researching, drawing, painting and storytelling, we felt more connected to Bloomsbury.
Bloomsbury is more than Virginia Woolf or the Bloomsbury Group, but also a home to many people. Bloomsbury is about the people, communities, artists and thinkers of different origins that make it a thriving area.
What does Bloomsbury mean to you?
Photographs (from top):
Sandra Lam, curator of the New Bloomsbury Set project; 'The future belongs to those who prepare for it today' street artist Mohammed Ali's mural at Kings Cross Brunswick Neighbourhood Association's Youth Centre on Argyle Street; The Festival's trainees and staff visited Charleston House –  the country house of the original Bloomsbury Group.
---
The New Bloomsbury Set is made possible by The National Lottery Heritage Fund.

Guest Blog: Wan Yi Sandra Lam, Curator of The New Bloomsbury Set