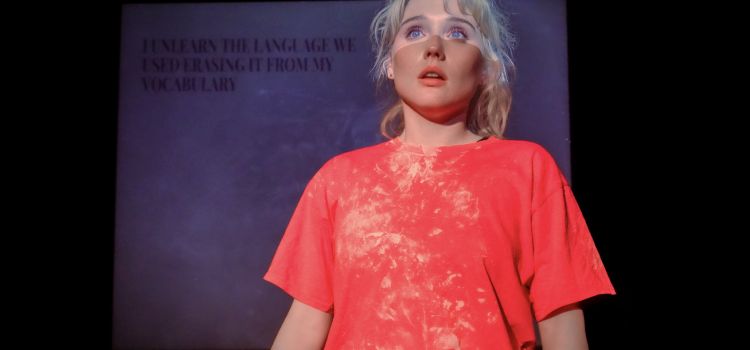 The Bloomsbury Festival 2022 programme contains a whole lineup of exciting and experimental theatre productions. One of these is Past Life with Alice Christina-Corrigan and Extant. Past Life is a genre-bending, multi-sensory and creatively accessible exploration into the normalisation of sexual assault in relationships. The production intertwines access into its heart, using creative captioning, audio descriptive language and soundscapes to evoke a new and dynamic way of making theatre.
We spoke to Alice about producing accessible theatre. Read Alice's words below where she shares her first-hand experience and tells us more of what to expect from Past Life:
Past Life – Breaking the Technological Wall

My name is Alice Christina-Corrigan and I am a visually impaired Associate Artist of Extant Theatre Company. Together we are taking my one person show, Past Life, to Bloomsbury Festival on the 16th October, 7pm at RADA Studios. I am thrilled to be pushing creative access boundaries alongside Extant, I can't wait to show you all the magic we are working on.

Past Life is a multi-sensory one person shows exploring the normalisation of sexual assault in relationships whilst creatively and unobtrusively intertwining creative access into the core of the piece. Underpinned by a unique and vibrant sound score, accompanied by projections and animations intertwined with integrated creative captioning and BSL interpreted, Past Life shows what we are capable of doing when making theatre accessible.

As well as the technical aids, I intertwine audio descriptive language into the essence of the piece to help break down stigmas attached to audio description, which can often be overlooked. My work centres around human emotion and I want to bring audiences of likeminded experiences together whilst also ensuring the work I do is accessible to Deaf and blind audiences in particular, who are sometimes shut out of stories such as this.

I began focusing my work around creative access in theatre during my MA and have since been supported by ACE, Extant, Graeae, Octagon Theatre and many other companies in order to push my skillset. I taught myself how to create sound design and creative captioning which aid the story itself.

Producing an accessible show has its difficulties. Having to ensure the technical aspects are as fleshed out and poignant as the onstage performance is a very interesting tool in the rehearsal room, but I've found this helps to give characters to things such as the projector who 'has a mind of its own' and sometimes arguably controls what we see on stage, something that is both fun and really scary!

Creative access is as important as the design, costume and performance and it's really exciting to see what this does to a rehearsal room. Ultimately, making accessible work isn't just about the final product, it's about ensuring the space is accessible and relaxed for all and working with people who share the same ethos as you. I strongly believe with the right people in the space the work will be accessible and I am loving learning more and more about this every day.

Seeing all these aspects come together is one of my favourite moments and makes the hard work worthwhile. I hope others are inspired to integrate creative access into their shows after seeing it!
Alice will perform Past Life at RADA Studios on 16th October at 7pm. Tickets range from £9-£12 and Free Companion Tickets are available for carers. Find out more and book your tickets here.
Image Description: Alice staring beyond the camera, in a pink t shirt with specs of pink and orange pant, with her blonde hair in a ponytail she is warmly lit by stage lights; Photography by Ella Dale.
Guest Blog: Producing Accessible Theatre with Alice Christina-Corrigan