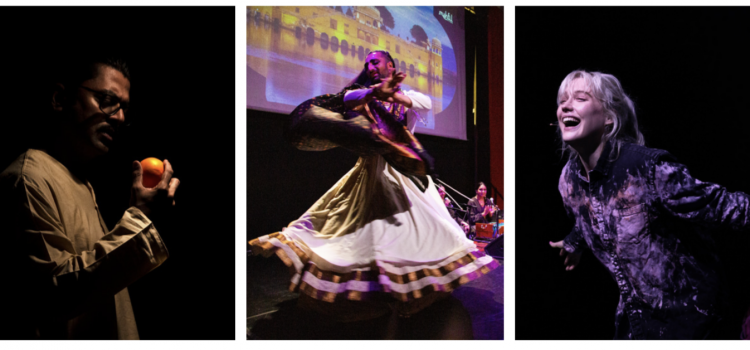 Events Pictured above (left to right): Death of an Orange, Daytimers Mehfil and Past Life. 
We are delighted to announce that an Arts Council England grant of £23,360 is supporting an exciting 'Platform' for new emerging artists, theatre makers, musicians and writers of colour at Bloomsbury Festival 2022. 
Events, which embrace this years' theme Breathe, will be co-curated by festival partners, Bloomsbury communities and local young people to reflect their diverse cultural heritage while being inspired by global challenges to our environment and wellbeing. 
'Platform' festival strands include: 
A Writers of Colour Hub
A weekend of performance, plays, music, workshops, and a book launch by emerging Writers of Colour. Conway Hall, Friday 21 & Saturday 22 October
'NEW WAVE' Theatre Shows by emerging writers
Featuring productions supported by Bloomsbury Festival's successful 2021/22 theatre writing and dramaturgy bursary scheme. Dr Williams's Library, RADA Studios and open air, with selected productions also broadcast online – 13–22 October
Live Poetry Performances
Featuring acclaimed poets and new talent. See the notorious Jawdance, an institution on the London spoken word scene, in action alongside up and coming poetry and music artists. St Giles Hotel, Sunday 23 October
Discovery Hub Breathe
Our three-day science and arts exhibition will widen its schools audience via a live web stream meaning many more young people will be able to get involved in the festival. Senate House, Thursday 20, Friday 21 and Saturday 22 October
Digital and Broadcast
The Arts Council grant will also support the recording and broadcast of two new radio plays at the 2022 festival, offer opportunities to new writers for 2023, and enable the festival to support New Wave events with digital and broadcast content.
Rosemary Richards, Festival Director, said: "The festival occupies a unique space culturally and geographically and this grant enables us to offer new opportunities to contemporary talent in the area. We are very excited to present a new and exciting body of work and to formalise the development of emerging talent within the festival."
EVENT HIGHLIGHTS:

WRITERS OF COLOUR HUB
Daytimers Mehfil: A evening of South Asian poetry
An evening celebrating all that is new in South Asian poetry and spoken word by Daytimers, the collective at the heart of the re-emerging Asian Underground. 21 October, 7pm, Conway Hall
Resisting Through Rest: Black Indies and The Pandemic
A panel discussion led by Black award-winning indie magazine Onyx Magazine and sweet-thang zine exploring independent Black creative organisations' survival after the pandemic and the concept of a Fallow Year. 22 October, 5pm, Conway Hall. 
Death of an Orange
A new bi-lingual play based on Ekjon Komolalebu (To be an Orange), by award winning Bengali author Shahaduz Zaman telling the story of the life and work of the revered modern Bengali poet, Jibanananda Das – little known to the outside world. 22 October, 6pm, Conway Hall. 
 Introducing Unbound Firsts: In Conversation
A book launch, inaugural reading and panel discussion from crowdfunding publisher Unbound Firsts (launching two debut books by talented writers of colour every year) led by authors David Gould and Solange Burell. 22 October, 2pm, Conway Hall
Pictured above: Daytimers Mehfil

'NEW WAVE' THEATRE BY EMERGING THEATRE WRITERS
The Hippie Shakes – Frankie Regalia & Sweaty Palms Productions
Based on a true story, this exciting new piece of gig theatre set in the turbulent 60s and 70s tells a distinctly female tale of motherhood, survival and intergenerational abuse as it follows Chickie on her incredible journey from frustrated housewife to hippie chick. 13-16 October, 9pm, Dr Williams Library and broadcast online
Choking Game – Yifan Wu
Set in an East Asian imaginary world this new play questions the western-centric presentation of climate change, performative tokenism in marine wildlife conservation, and the impact of capitalism on indigenous live and local ecology. 13-16 October, 6.30pm and 8pm, Dr Williams's Library and broadcast online
Umbrella – Katherine Edwards
'Umbrella' sees the world through the eyes of Gran who is experiencing dementia. 'We mourn them before they die' and 'what if dementia could talk' are themes explores by Katharine Edwards, who was inspired by her own lived experience of her grandmothers' illness. 21 October, 2.30pm live preview, Dr Williams's Library & and 7pm radio play broadcast, Bloomsbury Radio
Past Life – Alice Corrigan & Extant
A gendre-bending, multi-sensory and creatively accessible exploration into the normalisation of sexual assault in relationships. Past Life follows Kiera (and Betty the Brain) as they navigate through their new life, full of art classes, boxing rings, tears, fights and coming to terms with trauma. 16 October, 7pm, RADA Studios
Paradoxical Gasp – Hidden Keilion
In the air we couldn't breathe, we found each other.. An experimental event devised by a collective of six multidisciplinary Hong Kong artists and curators, which addresses socio-political urgency and initiates intercultural conversation dealing with the traumatic legacy of tear gas exposure in social movements around the world. 17-20 November, The Crypt Gallery
Pictured above: Umbrella by Katherine Edwards
FOR MORE INFORMATION
See the full Press Release or contact Vicky Wilford, Project PR and Partnerships Consultant, Bloomsbury Festival, vicky@bloomsburyfestival.org.uk 07968 129241
Arts Council England Grant Supports 'Platform' for New Emerging Artists