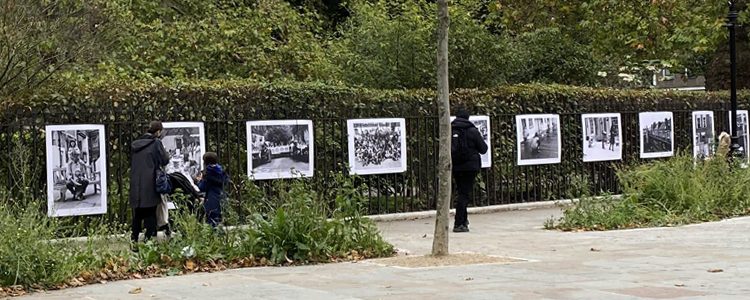 We are now approaching the final weekend of the 2020 Festival.  What a week!  Full of events, talks and exhibitions but in such different circumstances to usual.  Keeping your distance and not being in the same space does not feel natural festival style. 
We have missed that sense of mass gathering but have enjoyed the moments where we have been able to be with our team and audiences through the week. We hope you have enjoyed what we have offered so far – and as predicted last week there have been some moments of technological blips, but mostly we have presented our events online and in person as planned.  We continue with a busy weekend of live events, exhibitions, web streaming and digital happenings this weekend. Do come and join us.
Mohammed Ali OBE is painting a new mural at King's Cross Brunswick Neighbourhood Association youth centre in Argyle Square. Do drop by and watch on Friday and Saturday – although timings are weather dependent.
We have outdoor galleries at Brunswick Square Gardens and Lansdowne Terrace – attracting a lot of interest and people's own stories.  There are numerous Exhibitions and Galleries both live and online.
Reflecting our 2020 theme Vision, on Saturday 24 we have transferred our Hub event 'Seeing and Perceiving' online to Facebook and have an amazing line up of institutions and organisations offering live and video content throughout the day.
There are concerts, theatre shows, a programme of New Wave work from RADA MA graduates and students performed at the RADA studios (previously the historic Drill Hall).  Plus a programme of talks and walks.
And if you cannot come to us tune in to our partner radio station Bloomsbury Radio – you can listen locally on 87.9FM from 3pm-9pm throughout the festival, or online.
Festival events are designed to meet government and audiences expectations relating to live events and will be delivered with the safety and enjoyment of artists, participants, audiences and our local community at their heart.
We apologise if there are last minute changes to festival events but we have to keep up to date with the daily changing guidelines.
We hope you enjoy the 2020 Festival and we are so pleased to present the creativity and quality of work from artists, performers and academics in Bloomsbury.
Rosemary Richards
Director, Bloomsbury Festival
Update – Final weekend of Bloomsbury Festival 2020