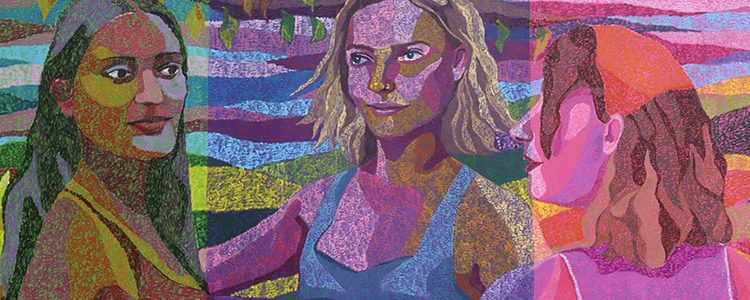 Joint winners of the 2023 Bloomsbury Festival Art Competition have been announced as Ella Jackson and Tara Ryan. Ella has just completed her BA Fine Art at UAL Central Saint Martins, and Tara is a second year studying for a BA Photography at London Metropolitan University.
Both will be exhibiting their work in an exhibition at Holborn Community Association from 14 – 21 October. Further details are available here.
The artwork was chosen by a panel led by the Duchess of Bedford, including representatives from City Lit, Corstorphine and Wright Architects, the Festival Director and individual professional artists.
A Love that Never Tires by Ella Jackson, is a series of four paintings (detail pictured above) displaying the artist's own experience with various forms of love: 'erotic love', 'familial love', 'friendship' and 'self-love'. The work also conveys her growth as an artist and as a woman.
Ella's description of her work: "My practice investigates human relationships, intimacy and the emotion of love. I usually paint people who are close to me, where a repetition of subjects is apparent but new faces gradually appear as new relationships with people are formed. The intention of the artwork is to have a physical impact on the audience. Colour and the use of brush strokes have been fundamental to these responses. The process of painting directly onto saturated coloured canvases and layering colour emits a glow of each colour through the delicately placed brush strokes. Warm pinks, oranges and reds are intentional in creating an atmosphere of love. The brush strokes are inspired by the pointillist technique, where they gradually build up to the final work."

Existence by Tara Ryan (detail pictured above) is a series of photographic artworks presented as a narrative exploration of nature – building from the pollination of bees to the creation of life and nature's place in the universe.
Tara's description of her work: "On the borders of Greater London is the green belt where I am situated. Upon this green belt is a luscious meadow and small woodlands home to much life. It is under threat to development, leaving no more green space in my local area. I have used flora based in the meadow to represent the evolution of the Universe and the evolution of Spring. The Bee to represent life. I want to highlight the importance of flora and fauna, and the impact human development and population are having on nature and the planet, and the importance of bees as the world's biggest pollinator and their significant importance for all life. I use a black and white technique to not only represent the void in space when representing the universe, but to also represent the monochrome brick and concrete that has devoured many green spaces."
Rosemary Richards, Festival Director
"Our annual Art Prize is growing in quality and breadth of entries each year. We would like to congratulate Tara and Ella on their success as winners – both with very different artforms and both offering a unique response to our theme of Grow. Because of the quality of work entered we have also decided to offer a chance to view a wider selection of the entries at an outdoor exhibition through the festival week at Bedford Square in the south-east corner of Bloomsbury and an exhibition of prints in the windows of our sponsors Greater London Properties in north-east Bloomsbury. We hope this gives our audience and local visitors every possible chance to appreciate the talent both of the winners and the wider entries to our competition."
> View details of the Art Prize Winners Exhibition at Holborn Community Association, Mon – Fri 10am – 5pm; Sat 10am – 2pm (closed Sun). FREE – Just turn up
Winners Announcement – Bloomsbury Festival Art Prize 2023