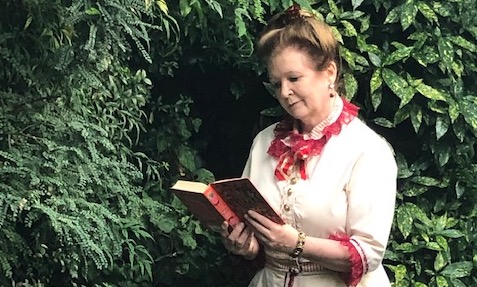 We found out a little more about Helix Productions ahead of their appearance at the 2020 Bloomsbury Festival with In The Secret Garden of Frances Hodges Burnett


Can you tell us a bit about Helix Productions and yourselves?
We met through working in education and then collaborated on arts engagement programmes incorporating music and text for residential homes.   Helix is a combination of  our first names Helen and Alexis.
The idea to pool our joint skills to create a piece of theatre together followed Helen seeing Alexis in a George Bernard Shaw play called Press Cuttings. Noting Alexis has a passing resemblance to Charlotte Payne-Townshend, wife of GBS, gave rise to our first show Mrs Shaw Herself.  We have been performing this (including at Bloomsbury Festival 2018) for a few years now.
Our trademark is to combine text and live music to highlight the stories of older women and their notable achievements as we feel that often society has not recognised those fully.
How did you become involved in Bloomsbury Festival?
Both of us have friends who live in Bloomsbury and we both love the area and particularly its heritage and links with women's rights and literary figures.
We have been aware of the festival for some time and loved performing Mrs Shaw Herself there in the iconic and appropriate to the Shaws' Fabian Society connection venue of The Conway Hall Library.  It is great to be back again in 2020.
Can you tell us how what prompted the idea of The Secret Garden of Frances Hodgson Burnett and how it's been developed?
No 'passing resemblance' this time, it was really a just a whim that we started exploring Frances and developed the script using her words after reading biographies. We added appropriate music once the script was in a workable format and In the Secret Garden of Frances Hodgson Burnett came into existence.
We found it intriguing that a significant amount of people have read The Secret Garden but did not immediately recognise the name of it's creator.  Many have no idea how prolific a writer she was.  That gives us all the more impetus to tell her story.
Interestingly, we had just performed our first pilot rehearsed reading in December 2019, when we discovered a new film of The Secret garden was due for release in April 2020 and a West End Musical around the same time. Of course, COVID has put these on hold, but we have created a digital version of the piece and have managed to perform via ZOOM during Lockdown.
As with Mrs Shaw Herself it is always important to us to share our ideas with those who have connections with our protagonists in order to validate our work from a historical, social and academic perspective.  For Frances Hodgson Burnett we have made contact with her biographers as well as direct living descendants.
Tell us what audiences can expect?
The show lets you spend an hour in the company of this amazingly successful novelist.  She speaks openly and frankly about her books, her career and her rather colourful and at times tragic private life. She also talks about her transatlantic existence and the highs and lows of her professional and personal life.
True to our unique Helix style, she tells her story punctuated not just by live music on Celtic harp and accordion but also by her reading extracts from some of her most famous books. These include The Secret Garden, Making of a Marchioness, Little Lord Fauntleroy and A Little Princess.
What other events during the Festival are you looking forward to seeing?
We both love the diversity and inclusivity of Bloomsbury Festival. There really is something for everyone!
Helen is really looking forward to catching Bren Gosling's new play Invisible Me, which sounds fascinating. The last arts event Helen saw before lockdown was Lucy Steven's Killing the Angel and it was so good she is definitely going to see it again. Alexis saw the pilot at LSE and loved it, so is mustard keen to see the whole piece. Helen has a love/hate relationship with Virgina Woolf and finds her fascinating and thrilled to see the piece performed in Bloomsbury!
Alexis is intrigued to see the photographic exhibition Absence by Luke Allen capturing Camden places, people and activities during Lockdown. A must see!
Book tickets for Helix Productions' In the Secret Garden of Frances Hodgson Burnett here
A Q&A with Helix Productions' Helen Tierney and Alexis Leighton