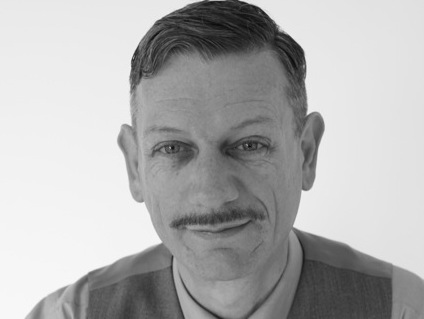 We talked to Bren Gosling to find out a bit more about him and his new play, Invisible Me, which is premiered at Conway Hall on Tuesday 20 October as part of this year's Bloomsbury Festival.
Can you tell us a bit about yourself?
I studied playwriting with John Burgess and my monologues & plays have been performed at The Pleasance, Arcola, OSO Barnes, Union Theatre, Rose & Crown E17, Bloomsbury Festival & Brighton Fringe.  I started out as a short story writer and have picked up a few nice things along the way (Exeter, London, Brighton Short Story Prizes), and am published in numerous anthologies. My female monologue Wrong Entrance won Putney Theatre's 2018 New Writing competition (had a sold out run at that theatre in May 2018.)   Others plays include Moment of Grace which showcased at Bloomsbury Festival 2018 and won NO: INTERMISSION International One Act Play Competition. A three-week  summer run at Tristan Bates Theatre, London was cancelled due to Covid BUT the play has been made into a film. Summer/autumn 2019  I wrote with Royal Court Theatre's WF Listen Local Project. Invisible Me  my new play about how three Londoners turning 60 overcome loneliness and sexual isolation, will livestream on 20th October  from Conway Hall as part of this year's  Bloomsbury Festival. PROUD a modern family drama about a BAME gay dad, his immigrant lover and the dad's 15-year-old son has been selected by ATG's New Wimbledon Theatre for their Autumn Premieres Season.
I walk everywhere – recently the entire length of Epping Forest in one day.
How did you become involved in Bloomsbury Festival?
Originally, I came to Bloomsbury in 2017 with my production Backstory Cabaret, an eclectic mix of jazz, dance theatre , poetry and short monologues performed by actors. Then for the 2018 Festival , I wrote a play based on Diana Princess of Wales visit to Britain's first AIDS Unit, in response to the Festival theme Activists and Architects of Change. At that time I was part of the John Burgess play writing course, a group which met on a Wednesday  evening at the Marchmont Street Community Centre.
What sparked the idea for Invisible Me?
I suppose it was when I turned sixty, in 2018, I began to think about this point in my own life, and how it might be for others. I am interested in writing about ordinary lives, extraordinarily lived; the forgotten, marginalised and voices not normally heard. It began with that, and then gradually the three characters formed in my head over about 12 months, and as I was completing another play – PROUD – at the time, I had to wait a bit. Invisible Me has gone through multiple  redrafts and incarnations, as do all my plays, to reach this point, and what you will see on 20th October is the culmination of all that.
Tell us what audiences can expect?
I am thrilled my new play will have its debut airing at this year's Festival. Invisible Me is an intimate piece about three Londoners  – a cab driver, a cleaner and a gay lift engineer,  who, when they hit 60,  challenge isolation and loneliness by  taking on the mantles of a new identity through sexual adventures. There are poignant bits and sad ones, but lots of funny irony too, which is ( I hope) laugh out loud funny. Let's face it , we all need to laugh out loud right now.
So, serious new drama, and voices rarely heard are centre staged. Good story lines with a few surprises along the way.
Where do you find a sense of community?
I am tempted to say 'ZOOM' and leave it at that! But, of course family, friends and various groups I am connected or involved with, which I am trying, like everyone, as best I can to maintain contact with during the pandemic. I've been dancing Argentine Tango  for over a decade now, and belong to a diverse international community. Conway Hall strangely enough normally hosts a regular tango dance night called Carablanca every other Friday night…I also am a member and Trustee of Sage Dance Company – a community dance group  for dancers aged 55 + who create new choreography for performance (I've danced with them at previous Bloomsbury Festivals). I do miss dancing, but stay in touch with the community online for now. Roots are important – I am originally an East Anglian. Going back to one's roots emotionally or physically remains an important source and sense of community and inspiration for me.
What other event during the Festival are you looking forward to seeing?
There is always a ton of really interesting programming, and this year is no exception. Never enough time to do everything that takes my fancy, but, so far my personal 'must dos' are  Lunar Salute Dance Company and Virginia Woolf: Killing The Angel. There's lots else too, I just need time to browse the programme more thoroughly.
—————-
Click here to book tickets for Invisible Me on Tuesday 20 October. Due to current government restrictions on gatherings and social distancing requirements tickets for Invisible Me are currently only available digitally (via zoom) for this event. Should government advice change and we are able to invite a live audience to this event, those who have already booked will be contacted and invited to join the in-person audience.
TWITTER @brengosling
A Q&A with INVISIBLE ME writer, Bren Gosling