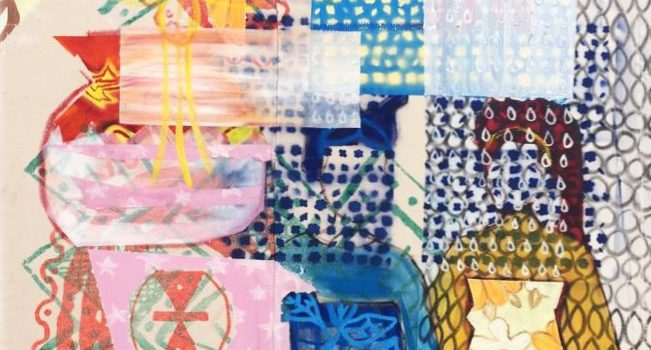 We are pleased to announce that Slade School of Art student, Claire-Anne Abi Ola has won the 2020 Bloomsbury Festival Art Competition.
The judging panel, hosted by Bloomsbury Festival's patron, Her Grace the Duchess of Bedford, included representatives from Slade School of Art, Bloomsbury Festival, The Bedford Estates, Camden Council, and Midtown BID.
Abi's artworks play with pattern, shapes and optical illusions. The patterns are inspired by British and West-African fabrics and textiles that her family wears.
Abi emphasises how her work brings together two worlds:
"The artworks represent the influence of the two cultures in my life and how these form my identity. My work focuses on representations of my family even though the figures remain ambiguous with the faces of the figures missing – but the patterns of their clothing reveal where they are from and what they are like".
Abi uses techniques such as screen printing and oil painting and is influenced by African Dutch wax prints and traditional European painting techniques.
The panel praised Abi's creative and technical ideas and. how they tell a personal and world history through colour, patterns, visual shapes and illusions, in a way which resonates with the multi-cultural population of Bloomsbury today.
Abi has grown up in north London and completed her first degree in fine art at Goldsmiths, University of London, and has just completed the first year of her MA in Fine Arts (Painting) at the Slade School of Art.
Abi has now been commissioned to create an exhibition of new and existing works to be displayed during the festival from 16-25 October, responding to the 2020 Festival theme, Vision. She is working with Bloomsbury Festival's programming team to find a suitable venue for her exhibition.
"I hope the audience will connect with the idea of knowing about their distant relatives, but never meeting them in real life, which is what my portraits are about. My work represents the influence of the two cultures in my life and how these form my identity."
Claire-Anne Abi Ola announced as winner of 2020 Art Competition