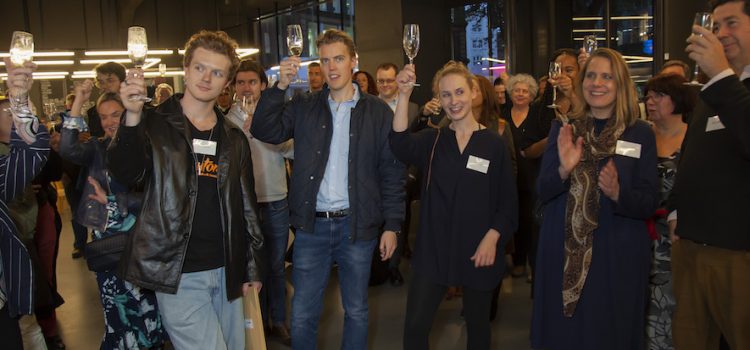 Bloomsbury Festival takes place only through the generous collaboration and support of local organisations and businesses.  In light of the current COVID-19 crisis, their support is more vital and valuable than ever and is enabling us to offer a full, if somewhat adapted, festival programme from 16 to 25 October.
That our principal sponsors, The Bedford Estates and UCL, can continue to support of the Festival during this difficult time means so much. Each have supported the Festival for a number of years and we have built on our partnership with both of them over this time.
"As Patron of the Bloomsbury Festival, I am delighted to support this unique event which brings together the area's artists, academics, businesses and residents in a fabulous collaborative venture each year. The Bedford Estates has a historic interest in Bloomsbury and we work hard to maintain its great village feel now and into the future, so we are particularly pleased to champion the festival, and to support its work across a whole range of our diverse community."
Her Grace, The Duchess of Bedford
Store Street and its array of independent shops, a key element of The Bedford Estates portfolio of properties, has over the past five years hosted the opening event of Bloomsbury Festival, in partnership with The Bedford Estates. This year is no different as we host a socially distanced walk-through event on the opening day of the Festival, Sights on Store Street.
UCL's collaboration with the Festival has enabled us to develop events in partnership with leading academics and scientists at UCL, alongside using some of UCL's wonderful spaces to host various events.
Last year we were pleased to welcome The SHM Foundation as a major sponsor and last month were thrilled when Midtown BID joined SHM as a major supporter too.
"As a principal location for business, creativity and culture, Midtown BID are delighted to support this year's Bloomsbury Festival. The spirit and ingenuity into how the festival events have been tailored and indeed transformed in light of the current climate is a true testament of not just Bloomsbury but the wider Midtown district's resilience and determination for renewal and prosperity."
Debbie Akehurst, Interim CEO, Midtown BID
Each of our corporate partnerships are unique. We work closely with all of our corporate partners to understand their objectives and design a package that excites and inspires, as well as meeting our partners goals.
At Bloomsbury Festival we are incredibly grateful to Arts Council England, who through their emergency response fund have enabled us to retain all of our staff in 2020. Bloomsbury Festival was also a recipient of a Grants for the Arts Award from Arts Council England to support our Creative Development Lab over winter 2019-20, the results of which you can see in several 2020 events.
If you would like to find out more about sponsorship opportunities with Bloomsbury Festival contact admin@bloomsburyfestival.org.uk
Bloomsbury Festival 2020 Principal and Major Sponsors