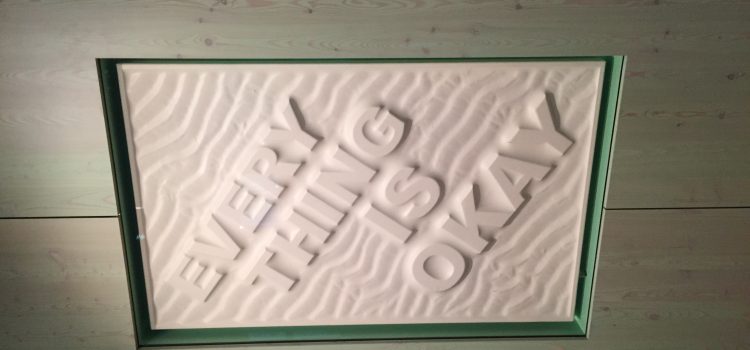 Neptune's projects: A Pamphlet In Defence Of The Necessary Impossibility Of Optimism
The incredible has made the world possible, and is making the world impossible.
Your drinks are so acidic your metals cannot hold them.
Hedonism is energy is destruction is destiny;
and there's nothing natural about nature – you're just confusing a process of growth and change with a really, really long time,
replayed in cycles you cannot even conceive of.
Complexity and composites makes the apocalypse more likely as it turns out, a pleasingly ironic wielding of Occam's razor if ever there was one.
To mould me is to make yourselves, and all your Parkesine and cellulose nitrate dreams went into painting pictures, playing explosive games for your yourselves now.
Your tomorrows are always too far away to matter.
Brother Hibiscus, it is still possible to sink, not die –
but everything is a trade off.
Better remain silent, better not even think, if you are not prepared to act.
The promises of degradation turn out not to be true; and compost heaps are experimental labs.
Agitate, agitate – agitation is the opposite of stagnation, one is life, the other is death.
Maybe your god will dare you to leap, maybe your god will catch you when you do.
But still you must leap.
Being combustible is contestable. Sorting is difficult. Things fall out of a loop. So be a nerd, not a jazz pellet!
Give up your everyday luxuries, if you want the true luxury of surviving! Eat the chains, recycle the enzymes, embrace the monomers!
Extract all the salt in me to make a new world, where you think with your bodies, and feel with your minds;
even though we know living and moving will kill this world like it does all worlds.
You have it in your power to begin over again, and again.
The sea is a time machine; I am a time machine. It's time to wake up.
Rishi Dastidar
About the piece
The piece – I call it a poem – is made from language and images I heard and saw at the various events and performances I attended over the day, including two direct steals from the Pamphlets: Victorian blogging exhibition at Conway Hall. It is one of a number of poems I have written giving voice to Neptune, and how he is responding to climate change and other environmental stress, while discovering he is not as powerful as he assumed.
About the writer
Rishi Dastidar has a dual career as a brand strategist and copywriter, and a poet. Currently he is head of brand language at independent branding consultancy Brandpie. His poetry has been published by the Financial Times and BBC amongst many others. He is a fellow of The Complete Works, a consulting editor at The Rialto magazine, a member of Malika's Poetry Kitchen, and chair of writer development organization Spread The Word. A poem from his debut collection Ticker-tape was included in The Forward Book of Poetry 2018. His second collection, Saffron Jack, will be published in March 2020 by Nine Arches Press.
> Return to 26 Writers in Residence
Day 10: Rishi Dastidar – Sunday 20 October 2019