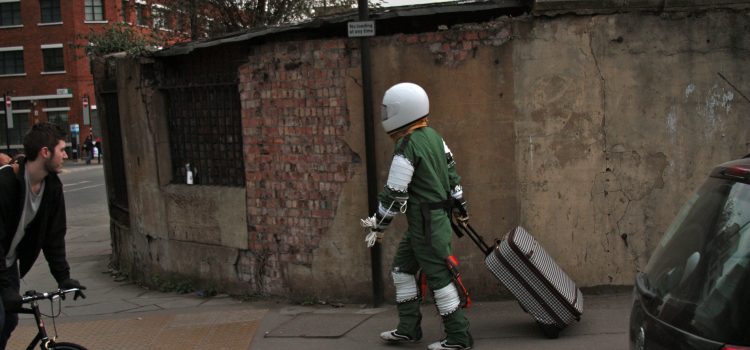 Irene Lofthouse
The tourist stepped along the street
her space suit merely another costume
on the day that thousands in
colourful garb protested at the
nature of their future.
Her exploration and collection
of found objects underlining that
what was essential today
is tomorrow's ephemera,
discarded decades of detritus.
Charlotte's 'whispering loveliness' *
felled in its prime
echoed across the century
to rustle in a night-time
ramble connecting the dark
skies with our antecedents'
awe at the constellations,
with their leaps of imagination
intellect, inventiveness in
creating ways of navigating
using the stars, as the
dung beetle has employed the
Milky Way for millennia.
Sharing steps in the understanding
of dementia – semantic, progressive
aphasia, atrophy, Alzheimer's.
I rejoice in the leap of
professionals who realise that
in the moment' living is
the way forward, that the
now' experience of being –
the acceptance of this
new person
is their future
not their past.
* Charlotte Mew 'The Trees Are Down' read by Michele Roberts 'Bloomsbury and the Poets'
About the writer
Author, storyteller, actor, director, playwright, historian, memorist, writing tutor, Irene's work covers several genres and ages, appears in many anthologies, on canal lock gates, on artwork in exhibitions. She's appeared at Edinburgh Fringe, in films, on radio and regional theatre. Her plays and books regularly tour literature, arts and radio festivals. Commissioned by museums, theatres, libraries, NHS Trusts, schools, FE, environmental organisations and community arts groups for site-specific events, as well as researching and publishing personal memoirs. Irene's a writer in residence with First Story, heritage/story consultant with Historic England, artistic director with Fresh Aire Productions.
> Return to 26 Writers in Residence
Day 9: Irene Lofthouse – Saturday 19 October 2019