The winner of this year's children's art competition is Lewis, aged 9 from Gospel Oak Primary School, Camden. Lewis will receive £75 of vouchers from Cass Art and an art scholarship place at the Sir Hubert von Herkomer Art Foundation.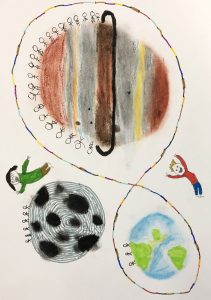 Entries were invited to a competition to create an artwork based on this year's Bloomsbury Festival theme, Small Step and Giant Leaps as part of the Festival's art programme. The competition was organised in association with the Sir Hubert von Herkomer Art Foundation 2019 and supported by Bishop & Sewell LLP.
The winning art work will be displayed throughout the festival at Thenga Cafe and Lewis will be presented his prize at a reception on Sunday 13 October, prior to the Cromer Street Welcomes the Moon creative family street party.
Winner announced of children's art competition